the suitable Solution for almost all Machine Tools
Minimum Quantity Lubrication (MQL) is increasingly replacing conventional coolant pumps in the metalworking industry due to the many advantages of this pioneering method. However, coolant pumps still have their place in industrial metalworking and are another focus of our delivery program. Have a look at our products and contact us if you have any questions.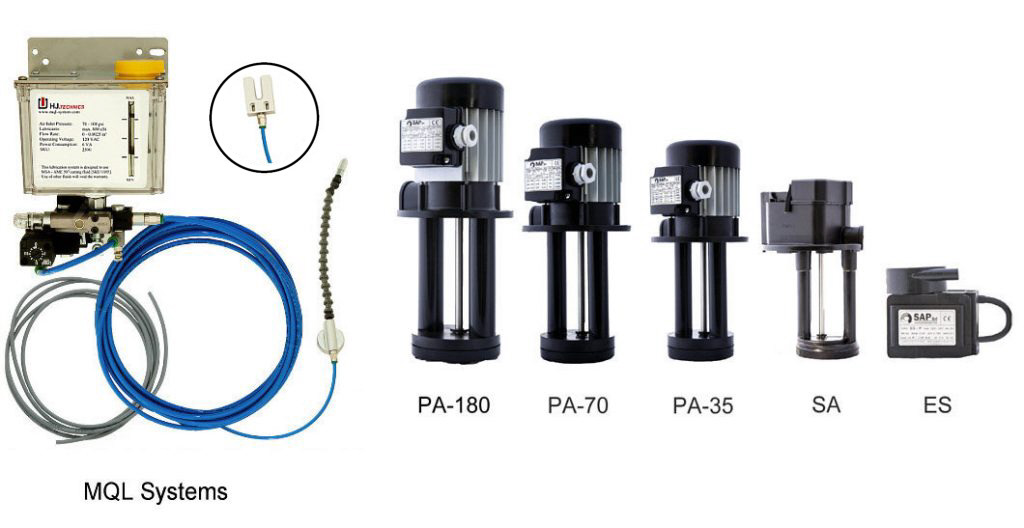 Some Features of our MQL-Systems
High quality
Made in Europe
Low Price
Easy Set Up
Save Money
Customizable
Why MQL?
MQL – also referred to as Near Dry Machining (NDM) – offers many advantages. In addition to being an environmentally friendly and employee-friendly technology, MQL helps you save money! In addition, our MQL-systems are easy to install and set up – a skilled technician does the job within 3 hours. Our illustrated, step-by-step manual will guide you through the installation process.
Another great advantage is the fact that much less coolant is required and that both the tool and the workpiece remain almost completely dry – greasy, slippery workplaces are a thing of the past. Read more about the advantages of MQL.
Some Features of our Coolant Pumps
Made in Europe
High quality
Designed for industrial use
Long service life
Highly resiliant
Customizable
Why SAP Coolant Pumps?
The italian pump specialist SAP has specialised in the manufacture of electric pumpsfor many years. We have been distributing and customizing SAP pumps for many years within Europe and the US market. SAP stands for high quality long life products and you will find them in many machine tools in industrial metal working plants.
SAP coolant pumps are circulating pumps with a discharge head of 6 feet (ES-Type) to 30 feet (PA-180). By default, all pumps comply with the IP54 electrical protection class. If you need advice on which pump to fit your machine just email us.