Description
MQL Loc-Line Nozzle with Magnetic Base
Solid and flexible nozzle assembly with approx. 250 mm hose (1/4 ″) and strong magnetic base for use in minimum quantity lubrication technology.
The Loc-Line system consists of individual, movable plastic segments and can be set up to any desired position with only one hand. It is extremely flexible and vibration-insensitive, which allows for stable positioning. It does not rust and is resistant to practically all chemicals and solvents that are used in cooling lubricants.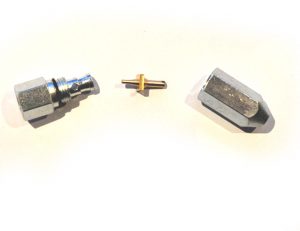 The nozzle offered here is intended for use in conjunction with minimum quantity lubrication systems that use an air-oil mixture. A thin oil hose is routed through the outer air hose and connects to the nozzle head (see photo of the nozzle head).